When we get the photo to Angry Birds Space, we'll post it on this Category. This is a list of the birds in Angry Birds.
| Strong Birds | |
| --- | --- |
| White Bird | |
| Green Bird | |
Birds
Template documentation
(for the above template, sometimes hidden or invisible)
<div style="padding:1em; padding-bottom:0em; margin:
(This is a separate page, not to be edited!)
There are many different types of birds. There are now 8 birds in the gang.
This slideshow only shows 3 birds in the gang. (Red Bird, Blue Bird, New Yellow Bird.)
([[Template:Documentation|Visit
Bird/doc
to make edits to this page!|How does this work]]?)
The Birds
All the birds have different powers. But, all of the birds are going after the pigs. They need to get their eggs back.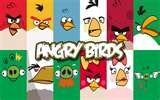 Trending pages
All items (18)