Coming or came in March 22, 2012, Angry Birds Space. The birds plant a slingshot on the moon instead of a flag. This is Top Secret. Make shure your iPod, iPhone, iPad, Mac, and PC is working so you can explore Angry Birds Space on March 22. thumb|300px|right
A Bird Speaking
Edit
ONE SMALL FLING FOR A BIRD. ONE QUANTUM LEAP FOR BIRDKIND.
Angry Birds Space
Edit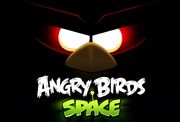 Template documentation
(for the above template, sometimes hidden or invisible)
<div style="padding:1em; padding-bottom:0em; margin:
Angry Birds Space
Edit
Coming on March 22 is angry birds space. Rovio hasn't told us if the birds are going outer space yet. We will first post the photo that won't give you an idea of what the birds will be doing outer space, only will give you an idea of what the logo will look like. On March 21, we will get more information about Angry Birds Space.
</div>
Rovio's Note
Edit
We'll be broadcasting globally online on March 8th at 10 AM New York time (EST). The announcement is going to be out-of-this-world, so make sure to tune in to angrybirds.com/space! That's 10 AM in New York, so 7 AM in Los Angeles, 3 PM in London, 11 PM Shanghai time...
Community content is available under
CC-BY-SA
unless otherwise noted.